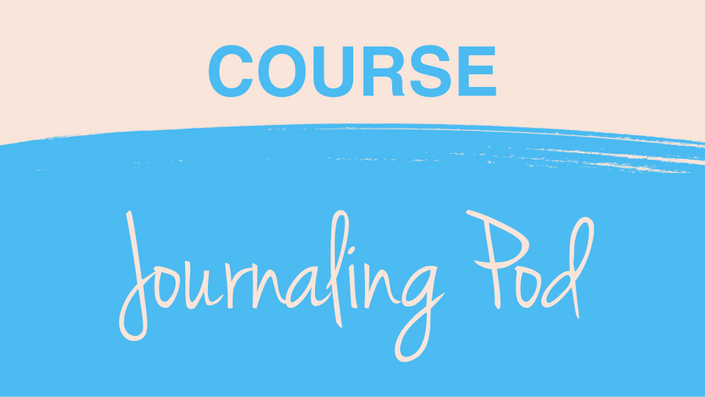 Journaling Pod 2.0
Haven't found your journaling groove? Here's your A to Z on how to journal effectively and consistently.
Are you looking to feel stronger and in control of your life and emotions?
Do you want to learn how to journal consistently and effectively?
Are you not sure what to write or where to start?
Journaling Pod is Designed for You.

VERSION 2.0 COMING SOON
"Meditation and journaling have never come naturally to me. But finding the right teacher finally made my emotional wellbeing a manageable and actionable priority in my life. Josie helps me find peace and strength, not by prescribing the answers, but by helping me find them within myself."
- Jenn Gray

Journaling Pod answers
✓ How do I find time to journal?

✓ What topic do I write about?
✓ How do I know if journaling is worth my effort?
Journaling Pod also answers
✓ What if I just can't do this every day?
✓ What if I want to journal but sit down and can't focus at all?
✓ What if I used to journal but now I'm in a slump
What does the research say?
"People who engage in expressive writing report feeling happier and less negative than before writing. Similarly, reports of depressive symptoms, rumination, and general anxiety tend to drop in the weeks and months after writing about emotional upheavals."
- James W. Pennebaker, Ph.D, Writing to Heal
In a study with asthma and rheumatoid arthritis patients, for the patients who participated in a daily 20 minute writing exercise, "writing helped patients get better, and also kept them from getting worse."
- Joshua Smyth, PhD, Journal of the American Medical Association (Vol. 281, Nov. 14)

"When people have the opportunity to reflect, they experience a boost in self-efficacy. That is, they feel more confident that they can achieve things. As a result, they put more effort into what they're doing and what they learn."
- Francesca Gino, PhD, Harvard Business School


Imagine this
Something stressful happens in your life and instead of falling victim to old habits, poor judgement and reactions you'd like to take back...
You manage stress and face problems effectively.
Journaling Pod gets you journaling and
Practicing Introspection
Awareness of how you really think and feel about yourself and the situations you're in
Exercising Mindfulness
Consciousness of what's going on inside you, around you and how not to get sucked in to what you don't want in your life (aka drama)

Experiencing Empowerment
Increase your strength to set boundaries, be yourself and move forward confidently
Journaling Pod will help you understand the tools, techniques and timing for establishing an effective and consistent journaling practice.

You'll discover your journaling style.

You'll get 12 downloadable and fillable Guided Journaling templates...for when you're not sure what to write!

You'll have exclusive access to the Guided Journaling private podcast feed!


You'll hear the four words you need to remember for journaling effectively.
There's eight sections, each features video lectures and worksheet to help you apply the material. And it's interactive so feel free to share your questions or comments in the comments section.
And all the lectures total 70 minutes so you can get through it in just one morning, afternoon or evening!
Help yourself face your problems and manage your stress effectively with the Journaling Pod!
Class Curriculum
SECTION 1: LET'S GET STARTED!
Available in days
days after you sign up
SECTION 2: WHY JOURNALING?
Available in days
days after you sign up
SECTION 3: HOW IT'S DONE
Available in days
days after you sign up